I don't know about you, but I am glad to be on the other side of the Thanksgiving holiday. Although I had a wonderful time with my family; my husband and I traveled to visit my sister, her husband, and their daughter. On top of that, it was my birthday. My sister surprised me with a cake and some balloons. This was the first birthday we've spent together since I was in single digits. It was a fantastic experience and a beautiful surprise. 
When we got home later that evening, I wanted to relax, but not end the evening. I don't know if it is out of habit or what, but I instantly grabbed the controllers for my Nintendo Switch and went straight for my farming game. 
Backstory: When I used to work in Miami, I took the express bus to work. While on the bus, I used to play Farm Story to relax before and after work. I am not sure if the game still exists on Facebook AKA Meta, but photos may still exist on Facebook AKA Meta.
Funny enough, I downloaded the game in December of 2020 and I hadn't played the game since. But this particular night, I played for at least five hours and was super psyched about planting digital fruits and vegetables. For the next few days, I played for hours on end. I felt the fatigue leaving my body and I felt like myself. Check out Farm Together for yourself. It is instantly addictive and the music is so calming. 
More than anything, I have realized that I need to relax a whole lot more. think I opted to take time off work at the right time. I am sure if I would have kept going, I would be headed for burnout. That is a feeling I never want to experience again. The exhaustion, lack of motivation, poor efficacy, and overwhelming doubts of whether you should even keep doing what you love.
I don't know what rest looks like for you and you may be so deep in what you have going on that you may have forgotten about things you enjoy as well. As we approach the rest of the holiday season, figure it out. You are going to need these things to keep you on the right track as things get more intense. 
During the month of December, we are going to focus on stressing less about the holidays as well as life in general. We will talk about prepping for 2022 and how we can continue to evolve into the best version of ourselves one moment at a time. 
Be sure to like, share, and subscribe to the Authentic Wellness Podcast. See you in the next episode.

Kionna Macon
Ms. Macon went missing on November 23, 2021. She is considered to be endangered because her car was found abandoned in the state of Mississippi with her identification left behind. No one knows what she was wearing when she was last seen. Her family last had contact with her on October 20, 2021.
Ms. Macon was born on January 1, 1974. She is currently 47 years old. She is from the hurricane-ravaged area of LaPlace, LA. Kionna has a dark brown complexion with black shoulder-length hair. She has brown eyes and doesn't wear glasses or contacts. She is 5'6" and weighs approximately 220 pounds.
Please contact authorities if you think you see her.
This information was obtained from 𝗯𝗹𝗮𝗰𝗸𝗮𝗻𝗱𝗺𝗶𝘀𝘀𝗶𝗻𝗴𝗶𝗻𝗰.𝗰𝗼𝗺
𝗣𝗹𝗲𝗮𝘀𝗲 𝘃𝗶𝘀𝗶𝘁 𝘁𝗵𝗲𝗺 𝗳𝗼𝗿 𝗶𝗻𝗳𝗼𝗿𝗺𝗮𝘁𝗶𝗼𝗻 𝗼𝗻 𝗺𝗼𝗿𝗲 𝗺𝗶𝘀𝘀𝗶𝗻𝗴 𝗯𝗲𝗮𝘂𝘁𝗶𝗳𝘂𝗹 𝗯𝗹𝗮𝗰𝗸 𝗮𝗻𝗱 𝗺𝗶𝘀𝘀𝗶𝗻𝗴 𝗽𝗲𝗼𝗽𝗹𝗲.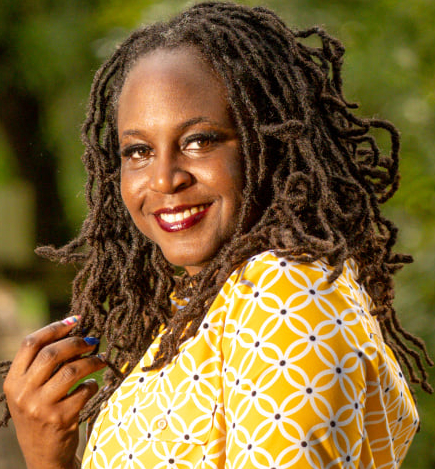 Sophia Antoine
Life Coach + Podcast Host
𝙎𝙤𝙥𝙝𝙞𝙖 𝘼𝙣𝙩𝙤𝙞𝙣𝙚 𝙞𝙨 𝙖 𝙡𝙞𝙛𝙚 𝙘𝙤𝙖𝙘𝙝, 𝙥𝙤𝙙𝙘𝙖𝙨𝙩𝙚𝙧, 𝙖𝙣𝙙 𝙗𝙡𝙤𝙜𝙜𝙚𝙧 𝙤𝙣 𝙨𝙚𝙡𝙛-𝙘𝙖𝙧𝙚 𝙩𝙤𝙥𝙞𝙘𝙨. 𝙎𝙝𝙚 𝙨𝙥𝙚𝙘𝙞𝙖𝙡𝙞𝙯𝙚𝙨 𝙞𝙣 𝙨𝙪𝙥𝙥𝙤𝙧𝙩𝙞𝙣𝙜 𝙬𝙤𝙢𝙚𝙣 𝙨𝙩𝙧𝙪𝙜𝙜𝙡𝙞𝙣𝙜 𝙬𝙞𝙩𝙝 𝙖𝙨𝙨𝙚𝙧𝙩𝙞𝙫𝙚𝙣𝙚𝙨𝙨, 𝙖𝙣𝙭𝙞𝙚𝙩𝙮, 𝙞𝙢𝙥𝙤𝙨𝙩𝙚𝙧 𝙨𝙮𝙣𝙙𝙧𝙤𝙢𝙚, 𝙖𝙣𝙙 𝙤𝙩𝙝𝙚𝙧 𝙨𝙚𝙡𝙛-𝙚𝙨𝙩𝙚𝙚𝙢 𝙧𝙚𝙡𝙖𝙩𝙚𝙙 𝙙𝙞𝙛𝙛𝙞𝙘𝙪𝙡𝙩𝙞𝙚𝙨. 𝙎𝙤𝙥𝙝𝙞𝙖 𝙚𝙢𝙥𝙡𝙤𝙮𝙨 𝙘𝙤𝙜𝙣𝙞𝙩𝙞𝙫𝙚 𝙗𝙚𝙝𝙖𝙫𝙞𝙤𝙧𝙖𝙡 𝙩𝙝𝙚𝙧𝙖𝙥𝙮 (𝘾𝘽𝙏) 𝙖𝙣𝙙 𝙧𝙖𝙩𝙞𝙤𝙣𝙖𝙡 𝙚𝙢𝙤𝙩𝙞𝙫𝙚 𝙗𝙚𝙝𝙖𝙫𝙞𝙤𝙧𝙖𝙡 𝙩𝙝𝙚𝙧𝙖𝙥𝙮 (𝙍𝙀𝘽𝙏) 𝙩𝙚𝙘𝙝𝙣𝙞𝙦𝙪𝙚𝙨 𝙩𝙤 𝙝𝙚𝙡𝙥 𝙬𝙤𝙢𝙚𝙣 𝙙𝙚𝙫𝙚𝙡𝙤𝙥 𝙩𝙝𝙚 𝙨𝙠𝙞𝙡𝙡𝙨 𝙩𝙝𝙚𝙮 𝙣𝙚𝙚𝙙 𝙖𝙣𝙙 𝙜𝙪𝙞𝙙𝙚 𝙩𝙝𝙚𝙢 𝙩𝙤 𝙖𝙪𝙩𝙝𝙚𝙣𝙩𝙞𝙘 𝙬𝙚𝙡𝙡𝙣𝙚𝙨𝙨 – 𝙙𝙤𝙞𝙣𝙜 𝙬𝙚𝙡𝙡𝙣𝙚𝙨𝙨 𝙤𝙣 𝙩𝙝𝙚𝙞𝙧 𝙩𝙚𝙧𝙢𝙨 𝙖𝙣𝙙 𝙣𝙤𝙩 𝙙𝙞𝙘𝙩𝙖𝙩𝙚𝙙 𝙗𝙮 𝙖𝙣𝙮𝙤𝙣𝙚 𝙚𝙡𝙨𝙚.
𝙁𝙤𝙧 𝙢𝙖𝙣𝙮 𝙮𝙚𝙖𝙧𝙨, 𝙎𝙤𝙥𝙝𝙞𝙖 𝙬𝙖𝙨 𝙙𝙧𝙖𝙬𝙣 𝙩𝙤 𝙝𝙚𝙡𝙥𝙞𝙣𝙜 𝙥𝙚𝙤𝙥𝙡𝙚 𝙘𝙡𝙤𝙨𝙚 𝙩𝙤 𝙝𝙚𝙧 𝙗𝙚 𝙖𝙘𝙘𝙤𝙪𝙣𝙩𝙖𝙗𝙡𝙚 𝙖𝙣𝙙 𝙧𝙚𝙖𝙘𝙝 𝙩𝙝𝙚𝙞𝙧 𝙜𝙤𝙖𝙡𝙨. 𝙎𝙝𝙚 𝙬𝙖𝙩𝙘𝙝𝙚𝙙 𝙖𝙨 𝙛𝙧𝙞𝙚𝙣𝙙𝙨 𝙖𝙣𝙙 𝙛𝙖𝙢𝙞𝙡𝙮 𝙢𝙖𝙙𝙚 𝙥𝙤𝙨𝙞𝙩𝙞𝙫𝙚 𝙡𝙞𝙛𝙚 𝙘𝙝𝙖𝙣𝙜𝙚𝙨 𝙖𝙣𝙙 𝙙𝙚𝙘𝙞𝙙𝙚𝙙 𝙩𝙤 𝙨𝙩𝙖𝙧𝙩 𝙖 𝙘𝙤𝙖𝙘𝙝𝙞𝙣𝙜 𝙥𝙧𝙖𝙘𝙩𝙞𝙘𝙚. 𝙋𝙧𝙞𝙤𝙧 𝙩𝙤 𝙗𝙚𝙘𝙤𝙢𝙞𝙣𝙜 𝙖 𝙘𝙤𝙖𝙘𝙝, 𝙎𝙤𝙥𝙝𝙞𝙖 𝙬𝙖𝙨 𝙩𝙝𝙚 𝙥𝙧𝙞𝙢𝙖𝙧𝙮 𝙘𝙖𝙧𝙚𝙜𝙞𝙫𝙚𝙧 𝙛𝙤𝙧 𝙝𝙚𝙧 𝙝𝙪𝙨𝙗𝙖𝙣𝙙. 𝙃𝙚 𝙬𝙖𝙨 𝙙𝙞𝙖𝙜𝙣𝙤𝙨𝙚𝙙 𝙬𝙞𝙩𝙝 𝘾𝙝𝙧𝙤𝙣𝙞𝙘 𝙆𝙞𝙙𝙣𝙚𝙮 𝘿𝙞𝙨𝙚𝙖𝙨𝙚, 𝙚𝙣𝙙𝙪𝙧𝙚𝙙 𝙛𝙞𝙫𝙚 𝙮𝙚𝙖𝙧𝙨 𝙤𝙛 𝙙𝙞𝙖𝙡𝙮𝙨𝙞𝙨, 𝙖𝙣𝙙 𝙪𝙣𝙙𝙚𝙧𝙬𝙚𝙣𝙩 𝙖 𝙨𝙪𝙘𝙘𝙚𝙨𝙨𝙛𝙪𝙡 𝙠𝙞𝙙𝙣𝙚𝙮 𝙩𝙧𝙖𝙣𝙨𝙥𝙡𝙖𝙣𝙩 𝙨𝙪𝙧𝙜𝙚𝙧𝙮. 𝙏𝙤𝙜𝙚𝙩𝙝𝙚𝙧, 𝙩𝙝𝙚𝙮'𝙫𝙚 𝙧𝙖𝙞𝙨𝙚𝙙 3 𝙘𝙝𝙞𝙡𝙙𝙧𝙚𝙣 𝙖𝙣𝙙 𝙘𝙪𝙧𝙧𝙚𝙣𝙩𝙡𝙮 𝙧𝙚𝙨𝙞𝙙𝙚 𝙞𝙣 𝙎𝙤𝙪𝙩𝙝𝙬𝙚𝙨𝙩 𝙁𝙡𝙤𝙧𝙞𝙙𝙖.