Thanks for stopping by the blog. I didn't plan this post. As you can see from the video, the idea came to me while I was sitting through a training at my new job.  In the video, I share how it felt to be the new kid on the block (again). I don't really like it, but I know it's necessary. Progress isn't always comfortable, but moves have to be made and I guess I am the best one to make them.
I know the music is a bit loud. I am still learning so please be patient with me. I will adjust the volume in the next video. I decided not to re-record because I don't want everything to be perfect. Perfection is an illusion. I am not perfect nor will I ever be perfect. I never want to give the impression that anything in my life is perfect. Nothing can be further from the truth. My goal always has been and always will be to present myself and anything that comes from Courageous Coaching in a real and transparent manner. 
Anywho, enjoy the video. Leave me a comment and share it with your friends.
So? What did you think? It will get better with time. Like I said, I am still learning.
More than anything, I hope you're encouraged to do something that you've been putting off. If you need accountability, I am here. There is no shame in needing help. [bctt tweet="While it's never too late to get started, you can minimize the amount of time you spend wishing you had started sooner." username="SophiaTheCoach"]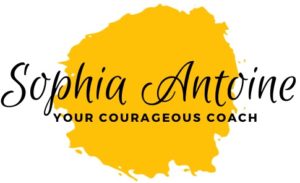 *Background music by HookSounds